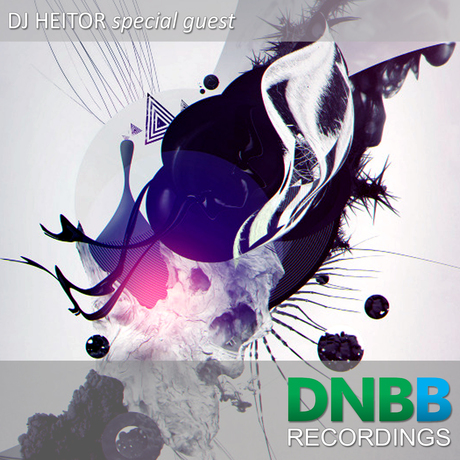 This episode was made with much love and affection, containing several hits of 2012 remixed exclusively pro DJ Hector, one of our artists, devoted to southern Brazil, Heitor always followed the work of DNBB Recordings with attention and affection.
More than a special set was a gift of 64 minutes with good feelings and great quality!
Enjoy faible with its breakneck beats, or Thesis with pianos and synths wonderful. Invite your friends to enjoy N4M3 in an intriguing mix of "Deep" and "Soulful DNB."
Listen carefully to the tunes of Mos, Ljay (DNBB new artist) that is rolling up in stores. Meet our new promise for 2013 - Oversight coming with an EP magnificent.
We can not leave out the superb "Pulsar" which opened the set with their tunes DFunk of the most anticipated event of the year bass: "Sun and Bass," only those who can give the vibe was extraordinary. Our thanks Dfunk.
Hytec and DJ DaSoul had their wonderful year with the EP "Romance" played in almost all of the programs and Cardif FM Bassdrive the heart of our friend "Joe Nebula" which achieved great success with their EP "Dreaming For Others" in mid-September of 2012.
Brunno Junglist sponsored by DNBB Recordings had a wonderful year with 6 releases and certainly an artist DNBB that will bring many other tracks in 2013, lovingly cared for by Bailey, Brunno Junglist, leaves one open-mouthed when touched!
Sigurt arrived bringing a little more danceable side of DNBB, and with it you can believe, good things are to come!
Our dear friend Nic ZigZag is also present on the set with a tune-raising, accompanied by our boy: nCamargo and our dear friend Ji Ben Gong.
Backed by DNBB, Sven Nalis holds great promise for 2013 along with other artists and Kolil the world as Hansollo Exygen and that will be in stores soon with new releases.
Acclaimed Duoscience makes a prior set with a tune also very promising and which marked a new style in his repertoire, check!
Fishy & Psyolopher as always with good music best of show "Deep" and "Liquid" on set, also beats Zurika bursts in and shows his more melodic side.
A special hug to DNBB new artist, DJ Dani denoting its liquid with coolness and precision beats and basslines us!
And finally a big hug and much happiness to our friend Mayforms, partner of every party, friend, brother and certainly one of the kindest people in the Brazilian Drum and Bass scene.
Big up to all the DNBB wish a happy new year, full of joy and overruns.
Special Thanks to Dfunk, Jason Magin, Bailey, DJ Kalista, Dj Zigy, DJ Nine, Technocolour and Komatic, Hytec, Insaint, Bluey, Steve Bcee, John Ohms, Overfiend, Fabio Kura, IWannabe, Bukem, Parallax, Nookie, DJ Andy, Acuna, Duoscience, Freebird, Jayno, IMpact, Alegria, Mage, Russel Saburuko, Felix Sauermoser, Motta, Shoyos, Randon Movement, Nitri, Sapphire, Stunna, Jay Rome, Scro, Liquid Drops, Scott Allen, Larry Crofton, Lnfour Chillax Trax, Carlo Eq, André Phonex, Mole Junglist, Breaking Up, Ben Ram, Andrea Ljekaj, Andrea Ljekaj and many others, sorry! Its so much names!...

DNB FOR EVER AND EVER!